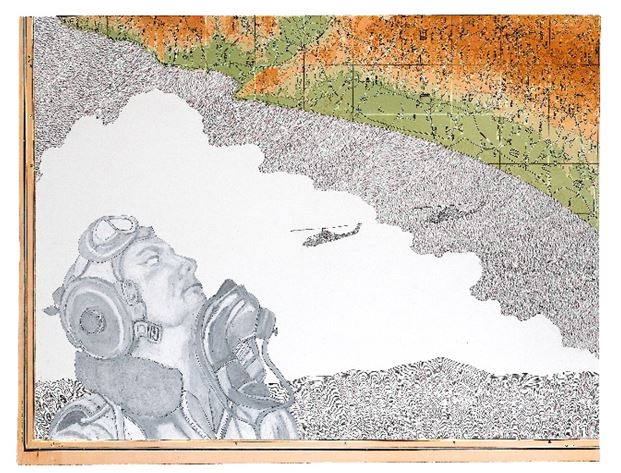 AVI YAIR
Avi Yair – Born 1957, Lives and works in Tel Aviv
As a collage and assemblage artist, Avi Yair is concerned with mixing up worlds and trying to break through the constrained frame of the working surface. Practicing different distances of sight- from the biographic point of view, to social forms of pop culture, to theoretical notions of the world; He seems to go back and forth, from the personal to the generic, from the concrete to the intangible, in a playful manner full of irony and humor.
Education:
1980 – 1984 HaMidrasha School of Art, Ramat Hasharon
Solo Exhibitions:
2012 Mostly collage, Rawart Gallery, Tel Aviv
2010 You Are Here, Rawart Gallery, Tel-Aviv
Exhibitions:
2012 Connected, Villa 1912, Kropelin, Germany
2011 Middle Yeast, Palazzo Sant'Elia, Palermo, Sicily
2010 Heat Wave Catch, Gallery Collection, Rawart Gallery, Tel Aviv
2009 Tuna Cans, Zimmer Gallery, Tel-Aviv
2007 Connected, Altes Museum, Mönchengladbach, Germany
2006 Naked and Bare, Dwek Gallery, Jerusalem
1997 Group Exhibition, Peer Gallery, Tel-Aviv
1994 Objects – Peer Gallery, Tel-Aviv
1993 Blickwechsel, Instant Recognition, Mann Auditorium, Tel Aviv
1992 Yefet 28 Art Gallery, Jaffa
1986 Small Sculpture, Kalisher, Tel-Aviv
Over the past ten years, collage and assemblage have become the center of my artistic efforts. I have been working with readymade, primarily printed matter dealing with history and geography such as maps, old atlases and magazines, as well as easily accessible materials, such as tuna cans, paint brushes and figurines. This has given me much artistic freedom. Through the process of cutting, tearing, gluing, and reassembling, I assign these materials a new role, steering them away from their original purpose. Working in this way allows me to conduct intimate dialogues with the past and create new narratives, new worlds, new perspectives. Furthermore, I am able to explore, issues of immigration, conflict and identity, as they touch upon the individual's personal history as well as the events of the 20th century.
Showing the single result
Showing the single result