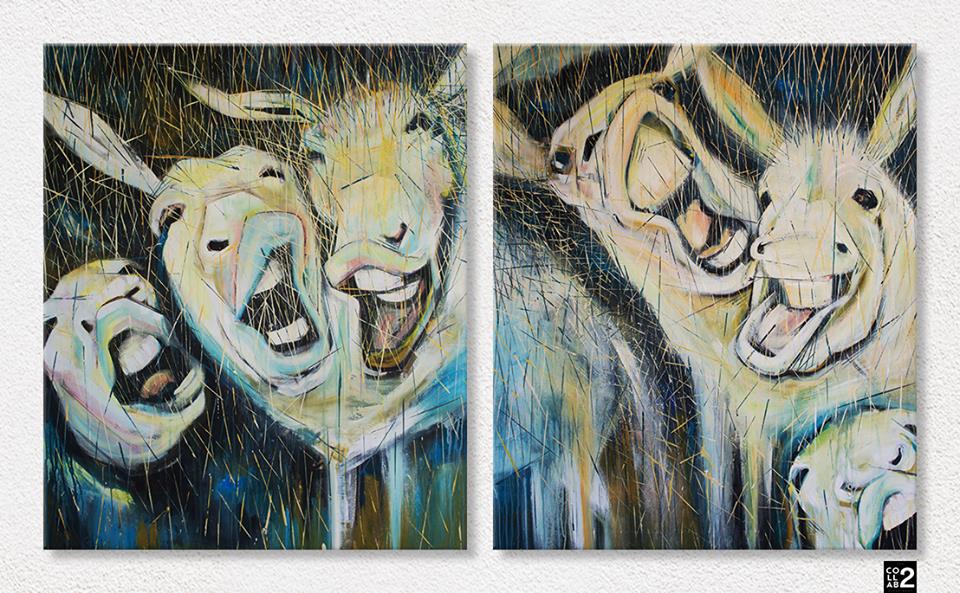 COLLAB2 EXPERIMENT
COLLAB2 EXPERIMENT
The Collab2 Experiment is an ongoing collaboration between artists Dimitris Fousekis and Alexis Saskalidis who share the same vision of producing artwork solely by communicating through color and movement.
This creative partnership began in 2016 inspired by the group exercises practiced in the Art Workshop sponsored by Hydragogy.
Dimitris Fousekis was born in 1966 in Tripoli, Libya from Greek parents. He grew up in Rome, Italy before moving permanently to Greece where he studied Geology. During his studies he illustrated various scientific publications in palaeontology. From 1992 to 1997 he documented and illustrated the antiquities discovered during the excavations for the Athens Metro construction and since 1997 he is a freelance illustrator, collaborating with design studios, publishers and advertising agencies. He is currently a member of the Parachute Font design team.
His illustrations are also featured in museums, such as the Papingo (WWF) and Tinos (Marblecraft) museums in Greece.
Since 2003 Dimitris has focused on illustrating books mainly for children.
His latest artistic explorations have led to the co-founding of Niditales a children's book series developed by Nicholas Rossis (author) and himself (illustrator).
From 2010 he lives and works on the Greek island of Hydra where he has created Art Workshops for children and adults funded and supported by the non profit organization Hydragogy
Alexis Saskalidis was born in 1982 in Veria, Greece. He grew up in his hometown, experimenting with graffiti and street art before moving to Thessaloniki where he studied Architecture. During his studies he started working as a freelance graphic designer. Since 2010 Alexis has focused on designing book covers mainly for indie authors around the world. From 2014 he lives and works on the Greek island of Hydra. In his spare time he paints, practices rock balancing and photography.
Exhibitions:
2016 '17 DAYS' Private space, Hydra.
2017 'COLLAB2' Melina Merkouri Hall, Hydra
2017 Group exhibition, Hydriot painters, Melina Merkouri Hydra
2018 Group exhibition, Hydriot painters, Hydra