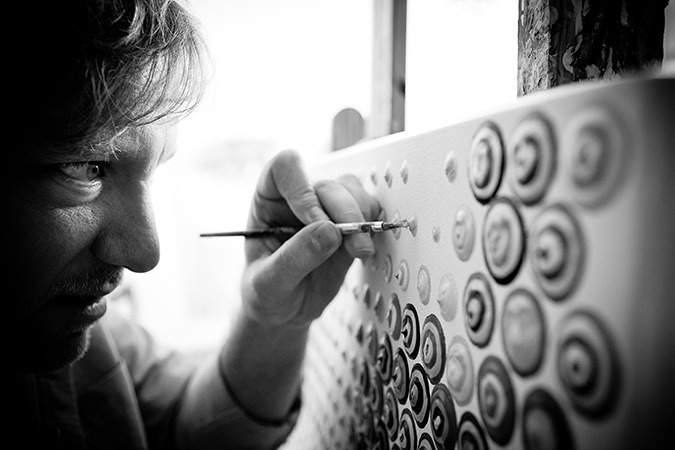 GAVIN RAIN
Gavin Rain lives and works in Cape Town.
He has painted since childhood and started with pointillism in 2003.
Influences include Seurat, the Russian Avant garde art of the 1900's and many architects. He originally intended to study architecture in the hope of combining his two interests – art and mathematics – but ended up obtaining a degree in Neuropsychology at the University of Cape Town before studying art the Ruth Prowse School of Art.
In 2011 Rain participated in the 54th Venice Biennale at the Republic of Costa Rica pavilion with a portrait of Nobel Peace Prize winner Aung San Suu Kyi and again in 2013 at the Republic of Bangladesh pavilion with a work entitled 'Lena'.
Rain's objective is to allow the viewer to perceive the convergence of two opposing pictorial styles: the abstractness of the colourful concentric circles that thicken into dense dots in relief, and the figurative aspect of the image that is defined by the sum of these same dots as the viewer takes a few steps back. It is in this backing-off that the artist's intended message lies: in order to acquire awareness of something that is concealed yet right in front of your eyes, or hidden in plain sight, you must distance yourself by moving backwards. We should view the big picture, the whole, without being too concerned about isolated events or individual points of view. As Gestalt psychology sustains, the whole is greater than the sum of the parts.