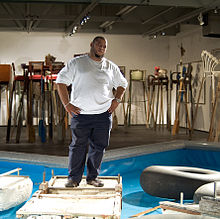 KCHO
KCHO (sometimes spelled "K'cho"), Born Alexis Leiva Machado on the Isla de Pinos (1970) is a contemporary Cuban artist. Kcho has had art showings around the world. He first attracted international attention by winning the grand prize at South Korea's Kwangju Biennial in 1995.
Alexis Leiva Machado (Kcho) was born in Nueva Gerona, Isla de la Juventud, on February 12, 1970. Son of Ignacio de Loyola Leiva Abreu, a carpenter and telecommunication technician, and Martina Primitiva Machado Cuní, better known as Martha Camacho, a tireless, hardworking woman and popular artist, he grew up alongside four other sisters in a humble and working environment. He did his elementary education in two primary schools, Josué País and Manuel Alcolea, and his secondary education at the Elementary Art School Leonardo Luberta, in his home town. In 1986, he enrolled in the National School of Plastic Arts (ENA) in Havana, and graduated in 1990 specializing in painting and sculpture.
At the age of sixteen, he marked the start of his career with the personal exhibition: Kcho expone favelas, at the Centre of Plastic Arts in Nueva Gerona in the year 1986. From 1990 on, already as a professional, he begins to display his works in personal and collective exhibitions both nationally and internationally. From them all, it is indispensable to mention his graduation thesis, Paisaje popular cubano, 1990 (Cuban Popular Landscape), since one of the works that titled the exhibition allowed him to be part of the permanent collection displayed at the Fine Arts Museum of Cuba (MNBA).