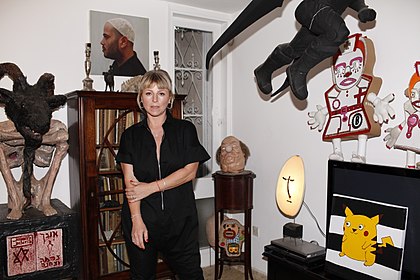 Keren Shpilsher
Tel Aviv, Israel
Keren Shpilsher was born in Kiron. She studied art at the WIZO High School in France and graduated from the Visual Communication Department of the Vital School in Tel Aviv with a degree from Middlesex University in London. In 2004 she was one of the founders of the Salona Group. The group acted as a collective that exhibited dozens of exhibitions over several years.
She also collaborates with designers from various fields, among them shoe designer Oded Arma, Sarah Brown and with the Comme il Faut brand.
Selected Solo Exhibitions:
-"The Queen of the Class", Janco Dada Museum, Ein Hod.
-"Organized Crime", Rosenfeld Gallery, Tel Aviv.
-"Shpilsherland 2010", Fresh Paint art fair, Jaffa.
-"Self-confidence – Pushpins #9" / Indie Photography Group Gallery, Tel Aviv.
Selected Group exhibitions:
-"First Portrait", Helena Rubinstein Pavilion for Contemporary Art, TAMA, Tel Aviv.
-"International Young Art 2003", Artlink & sothebys, Tel Aviv, Amsterdam, Moscow.
-"Globalism and the question of "Israeli art", Time for Art, Tel Aviv.
-"Diffusion", Kav 16 Gallery, Tel Aviv.
-"South- South", Nachum Gutmann Museum, Tel Aviv.
-"Sweet 16", Bat Yam Museum of Art, Bat Yam.
-"Concrete poetry", Eretz Israel Museum, Tel aviv.
-"Two years later", Ramat Gan museum of art, Ramat Gan.
-"Trespassing" Kaner House – Municipal Gallery for Arts, Rishon Lezion.
Showing the single result
Showing the single result