40 Year to Yom Kippur War Rare Photographs by Uri Dan
Click Here For Details and Photographs
We are proud to present rare photographs of Yom Kippur war 1973 of the journalist and photographer Uri Dan
Uri Dan, who was a journalist for many years as well as a close advisor of former Prime Minister Ariel Sharon
During the Yom Kippur War, Dan joined Ariel Sharon's division and closely covered the actions of who would later become minister and prime minister. Dan has been considered one of Sharon's closest advisors since then.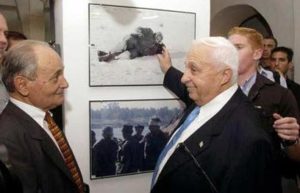 Prime Minister Ariel Sharon at the Farkash Gallery
In May 2005, a large surprise party was thrown for Dan in Herzliya. Amongst the guests was Sharon who hugged Dan and said, "Uri is a true friend, dedicated and limitlessly loyal. He has the heart of a poet that feels the future in his fingertips."
Sharon and Dan met in the fifties, even before the war began. Dan is the one who coined the familiar phrase, "Those who don't want him as IDF chief of staff shall have him as defense minister, and those who don't want him as defense minister shall have him as prime minister."
Sharon responded and said, "That was a prophecy I didn't believe.