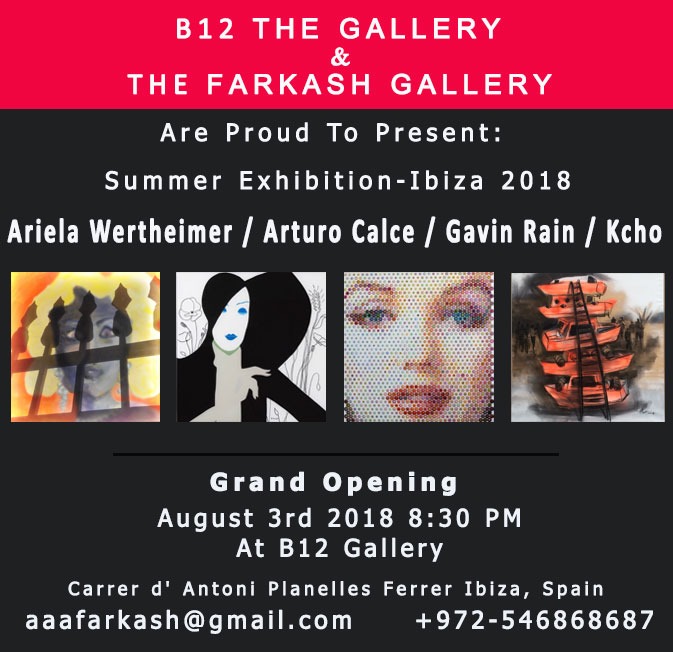 ARE PROUD TO PRESENT :
SUMMER EXHIBITION – IBIZA 2018 
WITH:
ARIELA WERTHEIMER / ARTURO CALCE / GAVIN RAIN / KCHO
GRAND OPENING:
AUGUST 3RD 2018 8:30 pm at B12 GALLERY
Carrer d' Antoni Planelles Ferrer Ibiza, Spain
aaafarkash@gmail.com  +972546868687
ARIELA WERTHEIMER: 
Ariela was born in Israel in 1957.  Lives and works in Israel and has been drawing and photographing for the past 20 years. She began painting amateurly at a young age in Nehariya guided by the teacher Hemey Gal. In 1975, she studied being an X-Ray technician at Rambam Hospital in Haifa. In 1977, she enlisted in the Israeli Armed Forces and served for 12 years. In 1990, she studied painting and sculpture studies at Oranim Art College. In 1997, she begins painting consecutively and begins showing her work in group exhibitions.
In 2013, Ariela moved from the quiet suburb of Caesarea to the bustling city of Tel Aviv. The city invigorated her with the energy to create, photograph, and paint at an urban rhythm. Fences, construction metals, faces, personal stories of people and neon lights created together a combinations of urban art – a type of pop art which is young and fresh.  The pace of the city didn't frighten her but strengthened her and allowed her to soar to new heights.
In 2015, Ariela opened her studio on Kibbutz Galuyot Street in the industrial area of Tel Aviv. And in 2016, she opened an exclusive exhibition at the Farkash Gallery called "The Freedom to Let Go" Light Boxes. In May 2017, Ariela will exhibit in the Vienna Biennale in Venice at the Palazzo Mora hosted by the European Cultural Center.
ARTURO CALCE:
Venetian artist, born May 5, 1955. He is often referred to as a "modest egocentric".  His style is steeped with symbolism, expressiveness and color, all of which is reflected in his work.
His art not only adapts to its surroundings, it actually manages to integrate itself into the context.  This stems from Arturo's reflective introjection with the cultures and countries he has visited in his life.
Calce uses a medium of spray paint on plexiglass slabs, with light and fresh nuances as the main element which transpire from his work.
GAVIN RAIN:
Gavin Rain lives and works in Cape Town.
He has painted since childhood and started with pointillism in 2003.
Influences include Seurat, the Russian Avant garde art of the 1900's and many architects. He originally intended to study architecture in the hope of combining his two interests – art and mathematics – but ended up obtaining a degree in Neuropsychology at the University of Cape Town before studying art the Ruth Prowse School of Art.
In 2011 Rain participated in the 54th Venice Biennale at the Republic of Costa Rica pavilion with a portrait of Nobel Peace Prize winner Aung San Suu Kyi and again in 2013 at the Republic of Bangladesh pavilion with a work entitled 'Lena'.
Rain's objective is to allow the viewer to perceive the convergence of two opposing pictorial styles: the abstractness of the colourful concentric circles that thicken into dense dots in relief, and the figurative aspect of the image that is defined by the sum of these same dots as the viewer takes a few steps back. It is in this backing-off that the artist's intended message lies: in order to acquire awareness of something that is concealed yet right in front of your eyes, or hidden in plain sight, you must distance yourself by moving backwards. We should view the big picture, the whole, without being too concerned about isolated events or individual points of view. As Gestalt psychology sustains, the whole is greater than the sum of the parts.
KCHO:
Kcho is a world-renowned sculptor and mixed-media artist who has contributed to the Contemporary Art movement. Kcho was born in Alexis Leyva Machado on the Isle de la Juventud in Cuba. He obtained his BA in Fine Arts from the National School of Fine Arts in Havana. He was interested in drawing at a very young age, and his main influence was Bruce Nauman (American, b.1941). The majority of Kcho's works are based on boat forms. He uses materials that are often scavenged from other sources, such as recycled bottles and old lumber from docks and boats. He grew up around water, so he took the pictures from his past and created images that honored the dead. He incorporated many Cuban icons and items from the daily culture into his sculptures. 

Some of Kcho's most notable works include Coluna Infinita, Las Playas Infinitas, and El Camino de la Nostalgia. In 1995, Kcho won the prestigious grand prize at South Korea's Gwangju Biennial, which presents a global perspective on Contemporary Art. In 1996, Kcho began to exhibit his work at the National Center for contemporary Art in Montreal, Canada. He also exhibited his work at the Museum of Contemporary Art in Los Angeles, CA, the Reina Sofia National Museum in Madrid, Spain, and many other famous galleries and museums. 

In 1992, Kcho was named a member of the Jury of the National Salon of the National Museum Palace of Fine Arts in Havana, Cuba. In 1994, he received a scholarship by the Ludwig foundation of Cuba. The group presents award money to help promote and protect Contemporary Cuban artists. The following year Kcho received the UNESCO Prize for Promotion of the Arts in Geneva, Switzerland. His works are on permanent display in some of the most famous galleries and museums around the world, including the Museum of Modern Art in New York, NY, the Arizona State University Art Museum in Tempe, AZ, and the Walker Art Center in Minnesota. Kcho currently lives and works in Cuba.