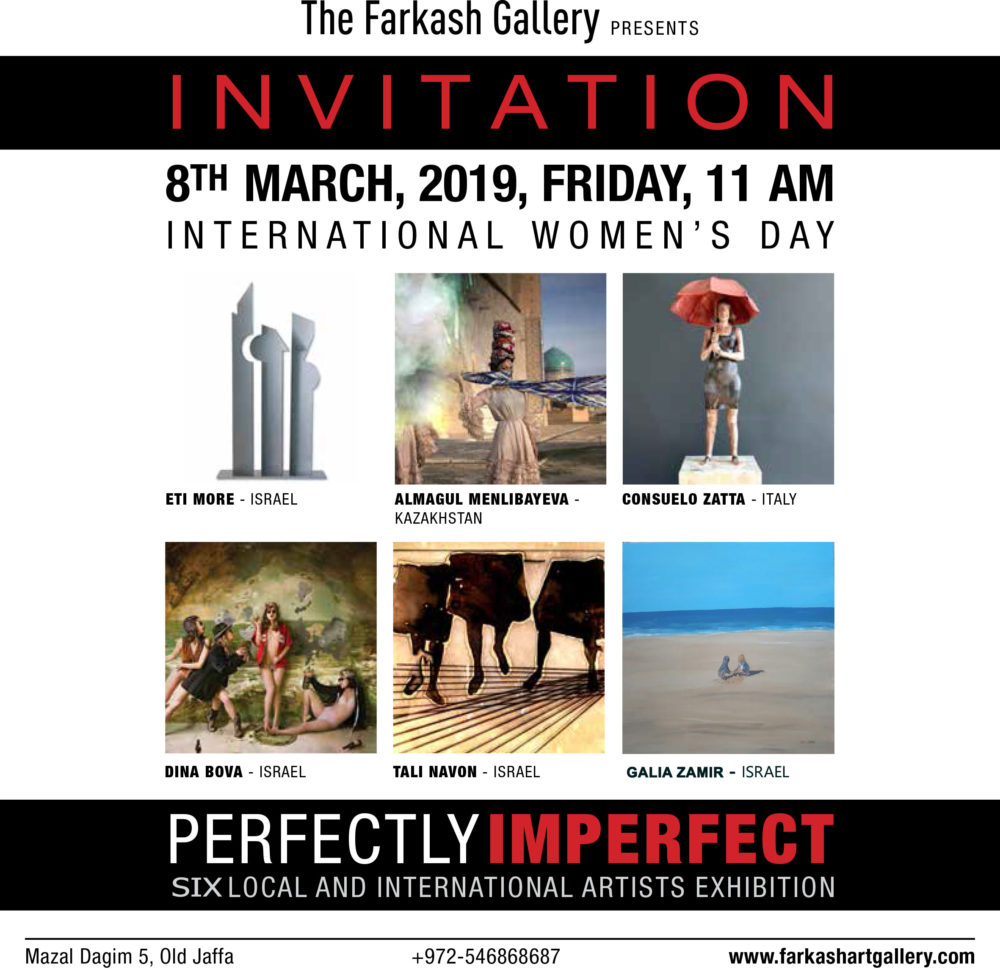 SAVE THE DATE, 8th March 2019
בשעה 11 בבבוקר
באופן מושלם בלתי מושלמת
אמניות במפגש אישי ונשי
שמיני במרץ ביום האישה הבין-לאומי תפגשנה שש אמניות מרחבי העולם בגלריה אחת ביפו, הן לא תדברנה על העצמה, וגם לא על תנועת "מי טו", הן תצגנה את האמנות שלהן בלי צורך להתנצל, בלי צורך להיות מושלמות, ובכל זאת הן תדברנה על הצורך בעולם המשולם הזה להיות לא מושלמת.
כי בכולנו יש סדקים ומשם בוקע האור שר לנו לאונרד כהן… There is a crack in everything – That's how the light gets in
Perfectly imperfect
Artists in a personal and feminine encounter
March 8th – On International Women's Day, five female artists will meet in one gallery in Jaffa.
They will not talk about empowerment, nor about me too, they will represent the art
Without having to apologize, without having to be perfect, and yet they will
talk about the need for this perfect world to be imperfect.
The place – "The Farkash Gallery" in Jaffa
Farkash Gallery in the alleys of Jaffa will present for three weeks six artists:
Israelis, Kazakh who lives in Germany and Italian artists
A multidisciplinary artist a photographer, and a sculptor will collaborate from this year International women day for two weeks in order to present and talk about their non-perfect lives.
The following artists will present their works:
גליה זמיר
ישראל
אמנית וציירת
זמיר נולדה בשיקגו וחיה כיום בישראל. בעלת תואר ראשון בפיסכולוגיה ואמנות מקל טק קליפורניה ולימודי המשך באמנות ב"מכללה . האקדמית בית ברל". זמיר היא אמנית המציירת בעיקר את סביבתה, לפעמים היא ממשית ולעיתים מדומיינת, בחירת המדיום לרוב נקבעת  לפי האוביקט. הציגה בתערוכות ובגלריות ברחבי בארץ
Galia Zamir 
Israel
Painter and artist
Galia was born in Chicago and today she lives and works in Israel. She have a degree in Psychology and Art from CA California and further art studies from "Beit Berl Institution". Zamir mostly paints her environment, the real and the imaginary. The medium is mostly chosen by the object she decides to reflect.  Galia presented in various Israeli exhibitions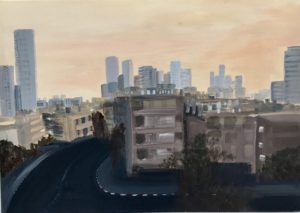 Continue reading COMING SOON- International Women's Day 8.3.19